Heat-Treated, Drop Forged Alloy Steel Anchor and Chain Shackles: Screw Pin and Safety Bolt Pin
Dimensions in Inches; weight in LBS
| | | | | | | | | | |
| --- | --- | --- | --- | --- | --- | --- | --- | --- | --- |
| Rated Load Tons | A | B | Anchor C | Chain C | D | E | F | Screw Pin or Round Pin | Safety Bolt |
| 1-1/4 | 3/8 | 7/16 | 1-7/16 | – | 21/32 | 31/32 | 1-1/32 | .30 | – |
| 1-3/4 | 7/16 | 1/2 | 1-11/16 | – | 23/32 | 1-1/16 | 1-5/32 | .50 | – |
| 2-1/2 | 1/2 | 5/8 | 1-7/8 | – | 13/16 | 1-3/16 | 1-5/16 | .75 | .84 |
| 4 | 5/8 | 3/4 | 2-3/8 | – | 1-1/16 | 1-9/16 | 1-11/16 | 1.30 | 1.80 |
| 6 | 3/4 | 7/8 | 2-13/16 | – | 1-1/4 | 1-7/8 | 2 | 2.30 | 2.50 |
| 7-1/2 | 7/8 | 1 | 3-5/16 | – | 1-7/16 | 2-1/8 | 2-9/32 | 3.50 | 4.00 |
| 10 | 1 | 1-1/8 | 3-3/4 | – | 1-11/16 | 2-3/8 | 2-11/16 | 5.00 | 5.50 |
| 11-1/2 | 1-1/8 | 1-1/4 | 4-1/4 | – | 1-13/16 | 2-5/8 | 2-29/32 | 7.00 | 7.50 |
| 14 | 1-1/4 | 1-3/8 | 4-1/2 | – | 2-1/32 | 3 | 3-1/4 | 9.50 | 11.00 |
| 16 | 1-3/8 | 1-1/2 | 5-1/4 | – | 2-1/4 | 3-6/16 | 3-1/2 | 13.00 | 14.00 |
| 20* | 1-1/2 | 1-5/8 | 5-3/4 | – | 2-3/8 | 3-5/8 | 3-7/8 | 17.00 | 19.00 |
| 30 | 1-1/2 | 1-5/8 | 5-3/4 | 5 | 2-3/8 | 3-5/8 | 3-7/8 | 19.00 | 21.00 |
| 24* | 1-5/8 | 1-3/4 | 6-1/4 | – | 2-5/8 | 3-13/16 | 4-3/8 | 24.00 | 26.00 |
| 30* | 1-3/4 | 2 | 7 | – | 2-7/8 | 4-5/16 | 5 | 28.00 | 31.00 |
| 40 | 1-3/4 | 2 | 7 | 5-3/4 | 2-7/8 | 4-5/16 | 5 | 30.00 | 34.00 |
| 40* | 2 | 2-1/4 | 7-3/4 | – | 3-1/4 | 5 | 5-3/4 | 39.00 | 42.00 |
| 50 | 2 | 2-1/4 | 7-3/4 | 6-3/4 | 3-1/4 | 5 | 5-3/4 | 48.00 | 52.00 |
| 60 | 2-1/4 | 2-1/2 | 8-3/4 | 7-1/8 | 3-7/8 | 5-1/2 | 6-1/2 | – | 68.00 |
| 80 | 2-1/2 | 2-3/4 | 10-1/2 | – | 4-1/8 | 6 | 7-1/4 | – | 92.00 |
| 85* | 2-1/2 | 2-3/4 | 10 | 8 | 4-1/8 | 6 | 7-1/4 | – | 94.00 |
| 95 | 2-3/4 | 3 | 11-1/4 | 8-1/2 | 4-1/2 | 6-1/4 | 8 | – | 121.00 |
| 110 | 3 | 3-1/4 | 13 | 9 | 5 | 6-3/4 | 9 | – | 144.00 |
| 120* | 3 | 3-1/4 | 13 | – | 5 | 6-1/2 | 9 | – | 146.00 |
| 140 | 3-1/2 | 3-3/4 | 15 | 10-1/2 | 5-3/4 | 8-1/2 | 10-1/8 | – | 250.00 |
| 175 | 4 | 4-1/4 | 17 | 12 | 6-1/2 | 9-3/8 | 10-1/2 | – | 360.00 |
| 250 | 4-1/2 | 4-3/4 | 19 | 14-1/2 | 7-1/4 | 10 | 12-1/2 | – | 445.00 |
| 250* | 4-3/4 | 5-1/8 | 22-1/2 | – | 7-7/8 | 10-1/2 | 14-1/8 | – | 640.00 |
| 300 | 5 | 5-1/4 | 21 | 21 | 8 | 12-1/2 | 14 | – | 620.00 |
| 300* | 5-1/8 | 5-3/4 | 25-1/2 | – | 8-1/4 | 11 | 15-3/4 | – | 810.00 |
| 350 | 5-1/2 | 5-3/4 | 23 | 23 | 8-3/4 | 13-1/2 | 15-1/2 | – | 990.00 |
| 400* | 5-3/4 | 6-1/8 | 28 | – | 8-7/8 | 12-1/2 | 17-3/4 | – | 1,140.00 |
| 400 | 6 | 6-3/4 | 26 | 26 | 10-1/4 | 15 | 17-1/2 | – | 1,225.00 |
| 500* | 6-1/8 | 6-3/4 | 30-1/2 | – | 9-7/8 | 14 | 19-5/8 | – | 1,380.00 |
| 500 | 6-1/2 | 7-1/4 | 29 | 29 | 11 | 16 | 19 | – | 1,710.00 |
| 600 | 7 | 7-1/2 | 31 | 31 | 11-1/2 | 17 | 20 | – | 2,030.00 |
| 700 | 7-1/2 | 8 | 33 | 33 | 12-1/4 | 18 | 21-1/2 | – | 2,605.00 |
| 750* | 8 | 8-1/2 | 32-1/2 | – | 13-3/8 | 17 | 23 | – | 3,070.00 |
| 800 | 8 | 8-1/2 | 36 | 36 | 13-1/2 | 19 | 23 | – | 2,980.00 |
| 1000* | 9-1/2 | 10 | 39 | – | 15-1/2 | 20 | 29-1/8 | – | 5,150.00 |
* Available
Size Options
** Various Dimensional Options are Available: Please confirm when necessary.
Sizes 3/16″ Thru 1″ Available in Stainless Steel.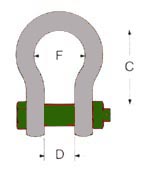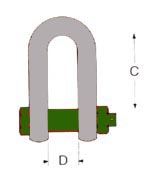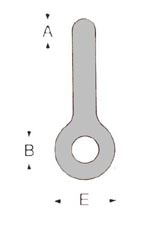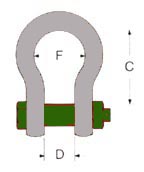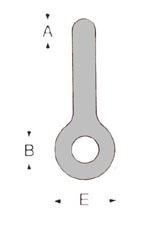 NOTES:
Minimum breaking strength is five times rated working load.
Furnished in galvanized or self-colored finish.
Pins are galvanized after threading.
Shackles can be furnished with complete traceability, proof test certificates, and serial number at additional charge.