Innovative Engineering Designed for You
To create the best ratchet lever hoist on the market, Columbus McKinnon started with a fundamental question – how do people use ratchet lever tools to perform their jobs?
To answer that question, a global team of CMCO engineers and application specialists worked with the Institute for Product Innovation at the University of Wuppertal, Germany, to perform an in-depth ergonomic study. Research included more than 200 voice-of-customer interviews across 10 countries, as well as numerous on-site evaluations of real-life applications for traditional lever tools.
The study revealed that lever hoists are more often used for pulling and securing than they are for lifting. And, in many applications, proper, safe and ergonomic use is not possible.
Using the data collected, Columbus McKinnon engineered and built a first-in-class product that exceeds the ergonomic and performance expectations of our customers around the world. The result is not simply the best, but rather one of the most innovative and safest ratchet lever hoists in the world – the CM Tornado 360,°™ featuring the revolutionary Sidewinder™ lever handle.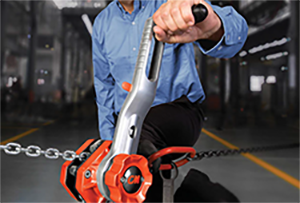 3

/

4

TO 6 TON CAPACITIES
STANDARD LIFTS UP TO 20 FT.
Redefining lever-operated hoists, the CM® Tornado 360°™ features the revolutionary Sidewinder™ lever handle that allows for efficient operation in both lifting and pulling applications. Ergonomically designed for increased safety, the patent-pending CM Tornado 360° lets the operator work up to 12 times faster and with as much as 30% less pull force than with conventional ratchet lever tools.
Manufactured by Columbus McKinnon
Since 1875, Columbus McKinnon has helped to make material handling easier and safer, and, today, is your single source for complete floor-to-ceiling lifting systems.
From below-the-hook attachments, chain, rigging products, manual and powered chain hoists to electric wire rope hoists, cranes, enclosed track systems and specially engineered products, Columbus McKinnon has the engineering expertise to meet the most demanding applications.
Sidewinder Lever Handle – This first-of-its-kind lever handle design will revolutionize the ratchet lever hoist industry. Its unique foldable handle and 360° rotating lever increases productivity while reducing the risk of operator injury.
Convenient Directional Indicator – Easy-to-use, highly visible directional indicator located on the handle clearly shows the operating direction as lifting, lowering or neutral.
Easy & Smooth Free Chaining – For quick take up and positioning of slack chain – even with one hand. Designed not to accidentally free chain while under load. Cast chain end-stop allows the user to easily position the chain in free-chaining mode and prevents it from entering the lift-wheel and jamming the hoist.
Positive Load Control – Fully enclosed Weston-type brake stays clean and dry for precise load positioning.
Built to Last – Lightweight aluminum housing withstands rigorous use and features high-quality, long lasting bearings. Powder coat finish provides extra protection in harsh environments.
Meets ASME B30.21
Excellent Corrosion Protection – Robust chain guide and chain stripper made from cast steel and zinc-plated for corrosion protection.
100% Load Tested Zinc Plated Chain – Protects against corrosion.
Easy-To-Inspect Swivel Hooks – Bolt-on hooks with nylon locks help users comply with ASME B30.21 and B30.10 inspection requirements. Hooks are forged, allowing them to yield under overload without breaking. Cast safety latches provide positive and secure load engagement.
Industry-Leading Warranty – Our lifetime warranty on all mechanical components, including the Sidewinder lever handle, is the industry's best warranty against manufacturing and material defects. With our 3-year brake warranty, if the brake discs wear out within 3 years from the date of purchase, CMCO will replace the ratchet disc assembly free of charge.
Easy Identification – Each unit has a unique serial number for easy and accurate identifi cation.