Capacities 1/2 through 35 metric tons.
Forged – Quenched and Tempered, with alloy pins.
Working Load Limit permanently shown on every shackle.
Hot Dip galvanized or Self Colored.
Fatigue rated.
Shackles 25t and larger are RFID EQUIPPED.
Shackles can be furnished proof tested with certificates to designated standards, such as ABS, DNV, Lloyds, or other certification. Charges for proof testing and certification available when requested at the time of order.
Shackles are Quenched and Tempered and can meet DNV impact requirements of 42 joules (31 ft-lbs.) at -20 degree C (-4 degree F).
Look for the Red Pin® . . . the mark of genuine Crosby quality.
Round Pin Anchor Shackle – G213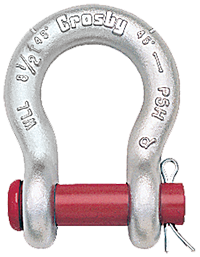 Nominal Size (in)
Working Load Limit (t)*
Stock No.
Weight Each (lbs)
Dimensions (in)
Tolerance + / –
A
B
C
D
E
F
G
H
N
P
C
A
1/4
1/2
1018017
.13
.47
.31
1.13
.25
.78
.61
1.28
1.84
1.34
.25
.06
.06
5/16
3/4
1018035
.18
.53
.38
1.22
.31
.84
.75
1.47
2.09
1.59
.31
.06
.06
3/8
1
1018053
.29
.66
.44
1.44
.38
1.03
.91
1.78
2.49
1.86
.38
.13
.06
7/16
1-1/2
1018071
.38
.75
.50
1.69
.44
1.16
1.06
2.03
2.91
2.13
.44
.13
.06
1/2
2
1018099
.71
.81
.63
1.88
.50
1.31
1.19
2.31
3.28
2.38
.50
.13
.06
5/8
3-1/4
1018115
1.50
1.06
.75
2.38
.63
1.69
1.50
2.94
4.19
2.91
.69
.13
.06
3/4
4-3/4
1018133
2.32
1.25
.88
2.81
.75
2.00
1.81
3.50
4.97
3.44
.81
.25
.06
7/8
6-1/2
1018151
3.49
1.44
1.00
3.31
.88
2.28
2.09
4.03
5.83
3.81
.97
.25
.06
1
8-1/2
1018179
5.00
1.69
1.13
3.75
1.00
2.69
2.38
4.69
6.56
4.53
1.06
.25
.06
1-1/8
9-1/2
1018197
6.97
1.81
1.25
4.25
1.13
2.91
2.69
5.16
7.47
5.13
1.25
.25
.06
1-1/4
12
1018213
9.75
2.03
1.38
4.69
1.29
3.25
3.00
5.75
8.25
5.50
1.38
.25
.06
1-3/8
13-1/2
1018231
13.25
2.25
1.50
5.25
1.42
3.63
3.31
6.38
9.16
6.13
1.50
.25
.13
1-1/2
17
1018259
17.25
2.38
1.63
5.75
1.54
3.88
3.63
6.88
10.00
6.50
1.62
.25
.13
1-3/4
25
1018277
29.46
2.88
2.00
7.00
1.84
5.00
4.19
8.86
12.34
7.75
2.25
.25
.13
2
35
1018295
45.75
3.25
2.25
7.75
2.08
5.75
5.81
9.97
13.68
8.75
2.40
.25
.13
Round Pin Chain Shackle – G215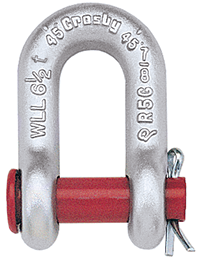 Nominal Size (in)
Working Load Limit (t)*
Stock No.
Weight Each (lbs)
Dimensions (in)
Tolerance + / –
A
B
C
D
E
F
G
K
N
G
A
1/4
1/2
1018810
.10
.47
.31
.25
.25
.97
.62
.17
1.59
1.34
.06
.06
5/16
3/4
1018838
.18
.53
.38
.31
.31
1.15
.75
1.07
1.91
1.63
.06
.06
3/8
1
1018856
.25
.66
.44
.38
.38
1.42
.92
1.28
2.31
1.86
.13
.06
7/16
1-1/2
1018874
.40
.75
.50
.44
.44
1.63
1.06
1.48
2.67
2.13
.13
.06
1/2
2
1018892
.50
.81
.63
.50
.50
1.81
1.18
1.66
3.03
2.38
.13
.06
5/8
3-1/4
1018918
1.21
1.06
.75
.63
.63
2.32
1.50
2.04
3.76
2.91
.13
.06
3/4
4-3/4
1018936
2.00
1.25
.88
.81
.75
2.75
1.81
2.40
4.53
3.44
.25
.06
7/8
6-1/2
1018954
3.28
1.44
1.00
.97
.88
3.20
2.10
2.86
5.33
3.81
.25
.06
1
8-1/2
1018972
4.75
1.69
1.13
1.00
1.00
3.69
2.38
3.24
5.94
4.53
.25
.06
1-1/8
9-1/2
1018990
6.30
1.81
1.25
1.25
1.13
4.07
2.68
3.61
6.78
5.13
.25
.06
1-1/4
12
1019016
9.00
2.03
1.38
1.38
1.25
4.53
3.00
3.97
7.50
5.50
.25
.13
1-3/8
13-1/2
1019034
12.00
2.25
1.50
1.50
1.38
5.01
3.31
4.43
8.28
6.13
.25
.13
1-1/2
17
1019052
16.15
2.38
1.63
1.62
1.50
5.38
3.62
4.87
9.05
6.50
.25
.13
1-3/4
25
1019070
29.96
2.88
2.00
2.12
1.75
6.38
4.19
5.82
10.97
7.75
.25
.13
2
35
1019098
43.25
3.25
2.25
2.36
2.10
7.25
5.00
6.82
12.74
8.75
.25
.13