To Order Your Crosby Eliminator® Grade 100 Alloy Chain Sling:
Follow these simple steps to order a sling assembly:
Determine the maximum load to be lifted by the sling assembly.
Choose the type of sling assembly suited for the shape of the load and the size of the sling assembly for the load to be lifted. The decision must take into account the angle of the sling legs in multileg slings.
Determine the overall reach from bearing point of Eliminator Bail to bearing point on hook (see Fig. 1).
Select components, assemble chain and components.
Affix sling identification tag to sling. The tag is available from your Authorized Crosby Distributor.
Each sling shall be marked to show: name or trademark of manufacturer, grade, nominal chain size, number of legs, rated load for the type(s) of hitch(es) used and angle upon which it is based (reach).
When using chain slings in choker applications, the Working Load Limit must be reduced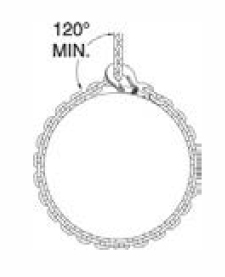 by 20%. Crosby recommends a minimum angle of choke of 120 degrees. Consult Crosby when planning to use an angle of choke of less than 120 degrees. If Crosby A-1338 cradle grab hooks are used at a minimum angle of choke of 120 degrees, the full sling rated WLL can be utilized.
In shortening applications, a 20% reduction of the Working Load Limit is required except when using the Crosby A-1338 cradle grab hook, S-1311N chain shortener link or the Crosby ELIMINATOR® Shortener Link. They can be used without any reduction to the Working Load Limit.

| | | | |
| --- | --- | --- | --- |
| | | | |
| | Crosby ELIMINATOR® Single Chain Sling w/Sling Hooks | | Crosby ELIMINATOR® Single Chain w/ SHUR-LOC® Hooks |
| | Crosby ELIMINATOR® Single Chain Sling w/ Grab Hooks | | Crosby ELIMINATOR® Single Chain w/ Foundry Hooks |

| | | | |
| --- | --- | --- | --- |
| | | | |
| | Crosby ELIMINATOR® Double Chain Sling with Sling Hooks | | Crosby ELIMINATOR® Double Chain with SHUR-LOC® Hooks |
| | Crosby ELIMINATOR® Double Chain Sling with Grab Hooks | | Crosby ELIMINATOR® Double Chain with Foundry Hooks |

| | | | |
| --- | --- | --- | --- |
| | | | |
| | Crosby ELIMINATOR® Triple Chain Sling with Master Link and Sling Hooks | | Crosby ELIMINATOR® Quad Chain Sling with Master Link and Sling Hooks |
| | Crosby ELIMINATOR® Triple Chain Sling with Master Link and Grab Hooks | | Crosby ELIMINATOR® Quad Chain Sling with Master Link and Grab Hooks |
| | Crosby ELIMINATOR® Triple Chain Sling with Master Link and SHUR-LOC® Hooks | | Crosby ELIMINATOR® Quad Chain Sling with Master Link and SHUR-LOC® Hooks |
| | Crosby ELIMINATOR® Triple Chain Sling with Master Link and Foundry Hooks | | Crosby ELIMINATOR® Quad Chain Sling with Master Link and Foundry Hooks |