If you've been in the business of transporting heavy cargo for any length of time, you likely know that a chain binder, also referred to as a load binder, is a tool used to anchor large cargo loads for transport. As a device that applies tension to the chains that tie-down cargo, chain binders play an important role in securement systems.
As common as the chain binder may be in the day-to-day work of loading and moving cargo, it's a relatively new addition to the transportation "toolkit". One of the earliest applications for a US patent on a load binder was submitted less than 100 years ago in 1927 with the following description:
"This invention relates to pulling implements of the type adapted for us as load binders and aims, among other objects, to provide an improved binder having provision for taking several bites on a chain to tighten or release it and to hold the chain while new bites are being taken."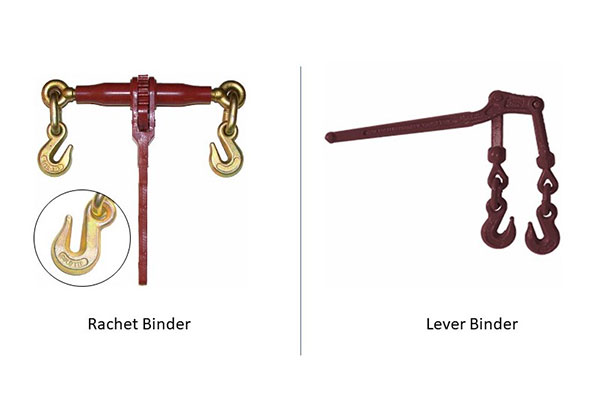 Industrial Wire Rope is a knowledgeable resource when you need chain binders. Which binder is best for your needs depends on several variables. In addition to the performance capabilities of each type of binder, you need to be familiar with federal regulations concerning load securement.
Types of chain binders
Browse through the Industrial Wire Rope catalog, and you'll notice a variety of load binders: lever type and rachet types, plus a walking load binder, a binder without links and hooks, snubbing load binders and midget load binders.
The most common types of chain binders are the ratchet type and lever type. How do they differ? Briefly:
Ratchet Binders:
Also known as a ratchet chain, this binder uses a ratcheting mechanism to create tension in the chain and secure the load. It features a ratchet handle and two tension hooks, one on each end of the handle. The ratchet styles is often considered the safer option between the two types of binders because its design does not store as much energy in the handle, and this reduces the risk of the bar recoiling or snapping back.
Lever Binders:
Often called a lever chain or snap binder, this binder uses leverage to tighten the chain and secure cargo. The tool features a tension hook on each end. Lever binders are typically easier to install because they have a simpler design. This style stores energy in the handle, since it requires more strength, can be tougher to tighten. People often use cheater bars because of it. Those bars are considered dangerous and are not recommended.
The Industrial Wire Rope catalog provides detailed specifications for all types of chain binders that include the min/max chain size, working load limit and proof load, along with the weight and dimensions of each binder. Chain binder details begin on page 114.
Tie down rules to consider before buying chain binders
Federal regulations provide guidance that will ensure you have the right equipment. Variables that determine what components you will need include the weight and length of the load.
The Federal Motor Carrier Safety Administration (FMSCA) provides direction on proper equipment for securing loads. Performance criteria for cargo securement include a description of the forces securement systems must be able to withstand for acceleration and deceleration in both forward and rearward directions, as well as for acceleration in lateral directions.
Chapter 2 of the FMSCA Driver's Handbook on Cargo Securement covers details such as:
Securing devices, including chains, wire rope and chain binders
Containing, immobilizing and securing cargo
Ways to transport cargo
How to load cargo properly
When you're looking for cargo securement components, Industrial Wire Rope can help you determine which binders best meet your requirements. And transport chains too! With a comprehensive assortment of chain binder options to choose from, as well as a variety of chain grades and chain hooks, we can help you create the securement system you need to safely and securely transport heavy cargo.