Any time of year, the mention of shackles can transport me to the Charles Dickens classic, A Christmas Carol, with the image of Jacob Marley shaking his chains and shackles as he warns Scrooge to change his ways. This confession is further embarrassing as it's always the Muppet version of Marley, making the night terror humorous to everyone but Scrooge.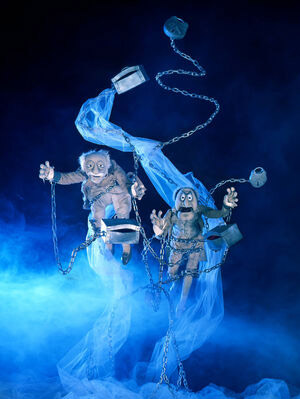 When it comes to shackles however, quality and safety is not a matter of the fictional realm, nor is it comical.
Industrial Wire Rope partners with The Crosby Group, whose experience in wire rope goes back over 140 years. Crosby shackles are premium equipment with features to maximize safety, while minimizing worries that might keep you up at night.

When selecting shackles, among your decision criteria are four key product attributes:
Design
Closed Die Forged
Quenched and Tempered
Identification and Application Information
Crosby is an industry leader across all these attributes for shackles. Some highlights of each follow:
Design Factor
The design factor is usually computed by dividing the catalog ultimate load by the working load limit. It is typically expressed as a ratio, and the minimum design factor for both carbon shackles and alloy shackles is 5 to 1.
When considering suppliers, always ask about the working load limit and the design factor for their shackles. Research for any occurrences of deformation upon overloading; this would be a critical consideration. Also, look to see if they have hardness high, in order to increase working load or design factors. This might be potentially jeopardizing other properties.
All Crosby carbon shackles have a design factor of 6 to 1, the highest in the industry. The chemistry of the material used in Crosby shackles is independently verified prior to manufacturing.
Closed Die Forged
Proper forging and accurate machining of shackles are key to proper performance. Be sure to ask suppliers you may be considering if shackles have a fatigue life that meets the new world standards.
With Crosby, each shackle is closed die forged, a process that assures consistent dimensions. Moreover, a closed die forged bow allows for an increased cross section that, when coupled with quench and tempering, enhances strength and ductility.
Crosby shackles are proven to provide improved fatigue life in actual use. They are fatigue rated as well as load rated.
Quenched and Tempered
Shackle reliability and consistency ensure performance and minimize risk. The quench and tempering process develops a tough material that reduces the potential for catastrophic failure. With quench and tempering, each shackle meets its rated strength and has required ductility, toughness, impact, and fatigue properties.
Some suppliers may normalize the shackle bows, and with this, optimal properties are not achieved. Some bows may be "as-forged" condition, and this is one that increases the possibility of brittle failure.
At Crosby, all shackle bows and pins are quenched and tempered to enhance their performance under cold temperatures and adverse field conditions.
For all critical applications including overhead lifting, we recommend Crosby's quenched and tempered carbon shackles. When specific dimensional requirements dictate a size that requires higher working load limits, alloy shackles are most appropriate.
Crosby's quenched and tempered shackles provide the tensile strength, ductility, impact, and fatigue properties that are essential for consistent performance in adverse conditions.
Identification and Application Information
Because traceability of shackle material chemistry and properties conveys the quality of the product and establishes confidence in it, it's important for your shackle supplier to have a traceability system. They should also be able to show that the material chemistry has been independently verified.
The proper application of shackles requires that the correct type and size of shackle be used. The shackle's working load limit, its size, a traceability code and the manufacturer's name should be clearly and boldly marked in the bow.
On Crosby shackles, you will see "Crosby" or "CG", the Working Load Limit, and the Product Identification Code (PIC) forged into each bow. In addition, "Crosby" or "CG", and the Product Identification Code (PIC) is forged into each pin of its full line of screw pin, round pin, and bolt type anchor and chain shackles.
Something else you should look for from your shackle supplier is training support. Crosby conducts seminars that provide training on the proper use of shackles. Crosby supplies free training packets to attendees of their seminars. The packets contain the materials needed to explain the proper use of shackles and serve as valuable reference on the job.
Conclusion
Don't find yourself in Scrooge's predicament, haunted by preventable worries and avoidable accidents. Insist on the best equipment available. When it comes to shackles, Crosby products can help you rest easier.