In recent issues, we've mentioned the new American Scaffolding website. As 2018 unfolds, you'll see more articles featuring both companies as our product offerings and services are so complementary and provide customers with turnkey solutions to industrial needs.
So, what DO South Korea and South Dakota have in common? You'd be correct if you answered neighbors at a higher latitude whose names both begin with "North". However, the answer we have in mind was industrial wire rope and scaffolding.
February is a month of unique occasions. Some cycle predictably year after year: Groundhog's Day, the Daytona 500, Valentine's Day and President's Day of course. Then, somewhat like comets, events like The Olympic Games and Leap Year fly through every four years, yet on different cycles.
And THIS February, Lent started on Valentine's Day. How often does THAT happen? That's not as predictable. The last time was 1945, but it will happen again in 2024.
The Olympics come to life every two years in winter and summer varieties. To varying degrees, they do so with the support of industrial rope and scaffolding.
And yes, the long nights and gray days of Midwestern winters provide plenty of time to muse about these things.
Back to the opening question, "What do South Korea and South Dakota have in Common?", this newsletter looks at the tie that binds them. Broadly, this is construction. Of course, we're looking at the industrial wire rope and scaffolding involved. These February days motivate us to look for inspiration, and we find it at the Winter Olympic Games and at Mount Rushmore.
How What Comes Down Goes Up
It may be an almost universal truth that what goes up must come down. The same near-certainty can't always be said of what comes down. Still, chances are that if it's earthbound and it's gone up, it likely has had some kind of assistance.
If you've been tuning into the Olympics this month, you've seen a lot of athletes coming down. Some are supposed to, like Shaun White with his jaw-dropping, gold medal winning flight down the halfpipe, attached to a snowboard that seems to be more often airborne than snowborne.
Other athletes aren't supposed to "come down", such as Nathan Chen with his unfortunate fall in the men's skating program.
It's those coming down the slopes intentionally, like Shaun White and Lindsey Vonn, that have our attention. While their athleticism is awe-inspiring, of course, how they get to the starting gates is also fascinating for those of us in the business of lifting things.
A recent post on Liftblog describes how ski lift companies prepared PyeongChang for mountainside competitions such as the downhill skiing, giant slalom, mogul, half pipe and more. For the 2018 Olympics, over 30 lifts serve the Games across three different resorts: Jeongseon, Phoenix Park and Yongpyong. A fourth location, Apensia Resort uses a funicular railway. All in all, a lot of lifting is involved, and industrial rope is the tie that raises Olympians to the starting lines.
Boise radio station, 107.9 LiteFM, put the spotlight on the role ski lifts – and Idaho – play in the Olympics with a recent feature, This Idaho Invention Plays Major Role in 2018 Olympics. Given the mountains of Idaho, It may not be surprising that the ski lift was invented there. What is surprising is that it's an invention inspired by conveyers used at the time to load bananas onto cargo ships in Central America.
So now we know: bananas bring something to the Olympic games beyond nutrition!
Industrial rope isn't the only product we're attached to that plays a role at the Olympics. Scaffolding is also a component of the venue – in construction and in art! Sculptures created for the 2014 summer games in Rio made for larger-than-life competitors. And, the scaffolding used in creating these sculptures is impressively artistic itself.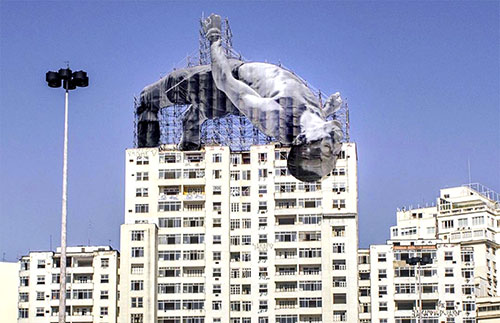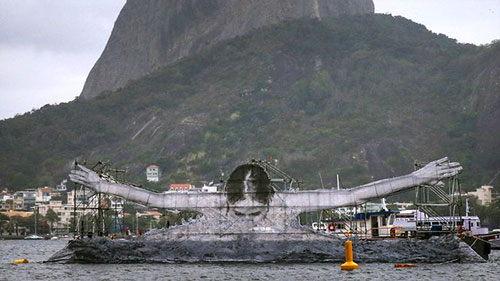 Larger than life competitors such as this high jumper and this swimmer were among the sculptures created for the 2014 Summer Olympics in Rio de Janeiro. Notice the scaffolding around them.
From Mountaintop to Mountaintop: From Olympics to Presidential History
Just imagine a gondola line stretching from PyeongChang to the Black Hills of South Dakota. How much rope would it take to span the sites and travel from world class athletes to world-shaping leaders?
The idea for Mount Rushmore came from Doane Robinson, a South Dakota Historian who wanted to promote tourism to the state. At 6,000 feet above sea level, the immense sculpture is the product of an incredible engineering feat that spanned 14 years, and according to Architectural Marvels, has not been completed!
You probably know that Mount Rushmore pays tribute to George Washington, Thomas Jefferson, Abraham Lincoln and Theodore Roosevelt. Do you know why these particular four presidents? The National Park Service provides an interesting piece about not only the construction of this monument, but the impact each of these presidents had in "sculpting" the nation the United States has become, including our presence on the world stage.
Of note, while most of the sculpting of the presidents' images was accomplished through blasting dynamite, the National Park Service article calls out the infrastructure created to support the project:
"…they installed a tramway of cables and winches from its base, where they constructed shelters and storage shacks. An elaborate scaffolding system was devised to accommodate drilling and blasting. Drillers, using jackhammers to drill holes for dynamite, were lowered from the peak to the scaffolds in leather swings by hand-operated winches. Microphones and loudspeakers relayed messages for the lowering and raising of the swings."
But..it's not complete? This assertion by Architectural Marvels is confirmed in the National Park Service article as well. Among other features such as a "hall of records" carved into the mountain itself, original plans included inscribing a brief history of the United States into the side of the mountain. Although that was never started, could it ever be complete?
Construction ended in 1941, shortly after the death of the sculptor. Over 75 years have passed since that then, time which everything from World War II to the moon landings to 9/11 and more. So much history has unfolded and is building still!
Inspiration in Sports, In Our Nation, in Business
The Olympics fuel inspiration as athletes exhibit how focused dedication to performance excellence leads to success – sometimes seemingly miraculous success. In a completely non-partisan spirit of observation, our national leaders have all had an immense job of guiding an infant nation toward global leadership.
Although not in the spotlight, we all can inspire as well: through top quality work, conscientious and courteous customer service, by mentoring others in our business and in our communities.
Hopefully this brief trip by newsletter from South Korea to South Dakota has offered some inspiration, some things to marvel over.
Certainly, when we're back with the March issue, we'll have more daylight and hopefully, a hit of spring in the air. Surely, THAT's inspirational!