With our July newsletter covering subjects such as dam repair, shark tagging and healthy hydration during the summer months, it might seem that all we think about is water. Especially when we open this newsletter with a brief history of the John A. Roebling suspension bridge.
It's entirely coincidence, although considering the challenges water presents in crossing it and channeling it, a lot of industrial wire rope finds its way in or near it.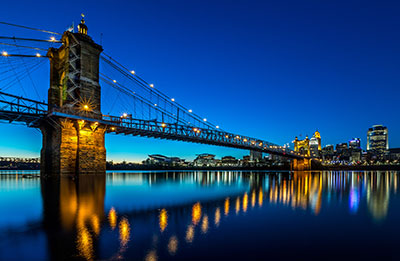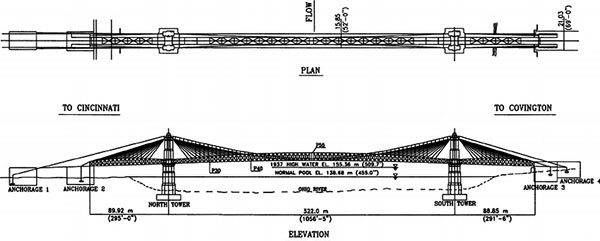 Roebling Bridge Trivia
The Wire Rope Exchange article, Chief Engineer: Washington Roebling, The Man Who Built the Brooklyn Bridge, shares several interesting facts:
Washington Roebling's father, John, created the preliminary drawings for the Brooklyn Bridge, but he died before the design was complete or construction started. Washington Roebling, stepped up to finish the designs and to lead construction. However, he built and opened the John A. Roebling Bridge connecting Covington, KY and Cincinnati, OH before construction on the Brooklyn Bridge began.
The Roebling family had their own wire rope business, Roebling Wire Rope, in Trenton, NJ. It was founded in 1849 and sold by the Roeblings in 1953. The company continued to operate through 1974.
When the Brooklyn Bridge opened in 1883, its towers were the tallest structures in New York City.
This article led to other interesting facts about the John A. Roebling Bridge and suspension bridges in general. Consider this:
Politics delayed the start of construction on the bridge, as did resistance to "modern technology". Kentucky granted the first charter for construction of the bridge in 1846. The Ohio legislature delayed approval due to opposition from ferryboat operators and steamboat companies, as well as concern the bridge would encourage passage for slaves seeking freedom.
When it was completed in 1867, the 1,057-foot span of the John A. Roebling Bridge was the longest in the world.
Wrought iron used for spinning the cables for the bridge was imported from England.
The January 1, 1867 opening of the John A. Roebling Bridge was EARLIER than planned; ice on the Ohio River that winter had stopped ferryboat operations.
In the great Ohio River flood of 1837, the John A. Roebling bridge was the only highway river crossing between Steubenville, Ohio and Cairo, Illinois to remain open. At a distance of over 800 miles, that represented a long detour!
The history of the John A. Roebling and Brooklyn Bridges is certainly fascinating. Along with that comes immense respect for the risks construction workers took in the building of the bridges, which leads us to safety matters.
Safety Matters
Safety in our industry is not a subject of simplicity, by any means. We're confident it is always top-of-mind in your firm and on the jobs you manage, but we want to share resources on safety tips wherever possible.
This brief excerpt from a Convergence Training video highlights the importance of monitoring the condition of wire rope, and signs of wear, including abrasion, bird-caging and broken wires: Wire Rope Safety.
Keep in mind that we can provide safety training for a variety of manufacturers. See the training information on our website, and call us to make arrangements for safety workshops.
Customer Service Tip
Whether attracting new customers, or building existing customer relationships, it's obvious: businesses don't exist without customers. If you don't already, regard them as an asset!
In its April issue, Entrepreneur published an article, How to Train your B2B Customer Support Team to Build a Loyal Consumer Base. This article offers three important tactics for building trusting customer relationships. Two intertwining threads that run through all their recommendations are:
The need for personalized, custom-created solutions for customers. No two customers or their situations are exactly alike, and customer service needs to be empowered to address customer needs individually.
A corresponding need to know your customers very well. This calls for a dedicated person – or team – responsible for each customer. Consistency in a customer service contact will build trust with your customers as they grow confident that their customer service person really knows and understands their business.
If you don't already do so, develop a system that enables your customer service team to be dedicated to specific customers, and to learn their business as if it were their own, and to establish strong relationships with individuals within the customers' organizations. Make your customers feel as though your team is as passionate about their business as they are themselves!