At the time of writing this, the Plains states are baking and the Midwest is working up a good sweat.
With heat all around, it may not be surprising that the July issue of The Rigging Shack has a "water theme". I hope along with some interesting observations and news, that all the talk of water provides a bit of cooling relief.
In this issue is a short case study on an unusual project, musings on the use of industrial wire rope for fishing…SHARK fishing, that is, as well as some safety notes on staying hydrated during these hot summer weeks.
A Lucky Call Led to a Highly Cost-Effective Project
Living near a major river system, it can become easy to take lock and dam systems for granted. As described in a recent New York Times article, America's lock and dam systems are critically important to commerce. The article, Choke Point of a Nation: The High Cost of an Aging River Lock, also illustrates how these valuable systems are wearing out.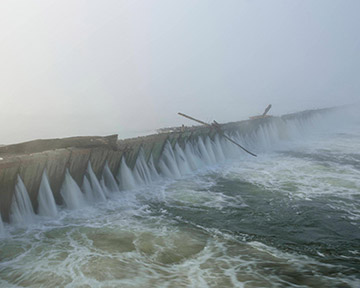 From the River to the Sea: a Fish Tale…
No, we didn't go fishing for this story. It just happened to cross our bow, so to speak. It caught our attention because the role industrial wire rope plays in it is somewhat out of the ordinary – at least when so many projects seem to be inland. It also touches people living their everyday lives in unimagined ways.
In the holiday issue of Slingmaker is a feature article on tagging and tracking sharks. This article is fascinating in part, as it tells a history of commercial shark fishing that is complicated, dangerous and occasionally cruel. The story brings us to current methods of catching sharks – to be tagged and tracked for scientific research – using today's rope "technology".
Even with wire rope, catching sharks is still tricky business, but much simpler and safer than methods used as recently as the late 20th century.
While the evolution of rope technology is interesting, the lives that it touches are many, and both aquatic and human: the sharks and their food chain, and scientists, teachers and even school children. The intended purpose of the research described in this article is purely scientific research, but the eye-opening sentence for me was, "It became clear to us and to educators that we had found a way to engage students in a real-time science project…this would allow students to follow their favorite sharks and learn the skills to be data driven resource managers of the future…"
…this from going fishing with specialty wire rope. Our products have the power to change the world in so many ways!
Hydration "Hype": It's for Good Reason
I mentioned it's hot, right? With the summer heat, "talk of water" is just the beginning for the well-being of workers. Everyone needs to be adequately hydrated, but it's especially important for people working outdoors or in unairconditioned environments.
Water makes up 60% of our bodies and is important in regulating body temperature among other important functions. A Safety & Health magazine article from a couple years ago, offered this rule of thumb: "the recommended amount of water intake is one quart per hour of active work or exercise for the average adult."
That's a gallon every four hours! The article suggests frequent intake, such as every 15 minutes. While that may sound like a lot, it's important to guard against dehydration. Be sure to drink up!
The Summer Marches On.
So, okay, it IS hot. But we hope you are having a productive and fun summer. From America's locks and dams to shark research, we've given you a bit of summer reading material. I hope you find it as fascinating as I have.
See you in August!