From sea to shining sea, it seems that America is under construction.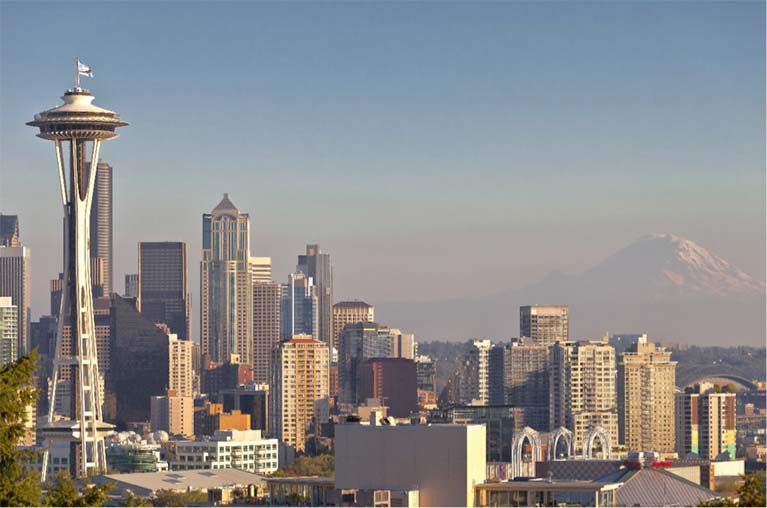 You may have seen the recent American Scaffolding post about renovation work underway at the Lincoln Memorial in Washington, D.C.
We too, at Industrial Wire Rope are on a virtual summer road trip, admiring interesting construction activity at some of the nation's favorite monuments and historical sites.
Our trip begins in the western U.S., appreciating the design and workmanship of the Seattle Space Needle. This structure is an iconic piece of architecture not only to Seattle, but in and of itself. Like the Lincoln Memorial, the Space Needle is getting a facelift this summer. A major facelift! Billed as the "Century Project", the Seattle Space Needle renovation reportedly has a price tag of $100 Million. That's a lot of cups of Starbucks!
Seattle's Space Needle was constructed in 1961 in preparation for the 1962 World's Fair. It was constructed in a year, a remarkable achievement at that time. Some of the original design components were unachievable in 1961, partially due to the limited time available to complete structure in advance of the World's Fair, as well as technological limitations of that time.
As if Seattle scenery wasn't already breathtaking in and of itself, a ride up the Space Needle takes visitors 520 feet above ground and raises "awesome" to an entirely new level. Since its opening in 1962, the Space Needle has offered a panoramic view that encompasses snowcapped Mount Rainier, Elliot Bay and the Olympic Mountains, with downtown Seattle directly below.
According to Architectural Digest, the renovation will leave "few visual obstructions …forty-eight glass panels were added…a new circular stairway—glass-floored, with steel and glass supports—allows guests to move among the three levels. New glass open-air barriers with integral glass benches are affixed to the outer Observation Deck."
The new glass-floored observation deck rotates, so visitors can take in views in all directions in a matter of minutes without moving a muscle.
The Seattle Public Library has a collection of photography taken during the original construction of the Space Needle. The photos were taken by George Gulacsik, who was a graphic artist and industrial photographer employed by the architectural firm for the project. Gulacsik's collection numbers over 2,000 photographs and is available at George Gulacsik Space Needle Photograph Collection.
Of course, we zeroed in on just a few that capture industrial wire rope at work. Below are images showing how cranes and wire rope lifted everything from "buckets" of concrete for the foundation of the Space Needle to sections of its core and legs.
Seattle's Space Needle – Built with the help of Wire Rope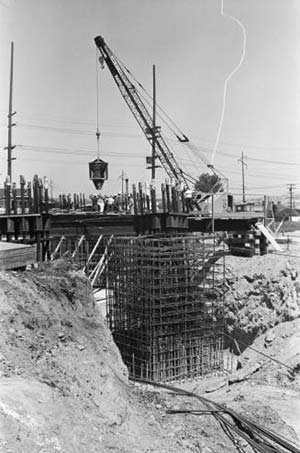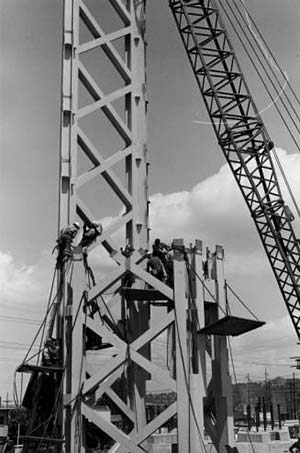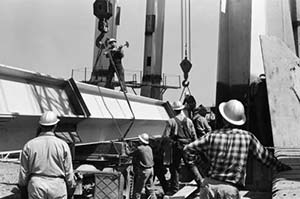 This won't come as a surprise, but wire rope plays a big role in the Space Needle renovation, as well. And this rope has been doing some amazing lifting, some of it captured by photography drone footage.
The Seattle Business Journal offers several photographs of the renovation construction platform attached to cables that will raise it to work areas. In addition to impressive still photography, a video shot by drone camera at night provides a beautiful and dramatic view of the platform rising up the Space Needle. To us, the industrial wire rope is the star of this show, and we "hoist" a toast in recognition of this awesome engineering feat!
Certainly, the Industrial Wire Rope and American Scaffolding virtual "road trip" is inspired by memories of family trips through and to all corners of the country. But even if this summer's plans don't include a trip to Seattle, it's really tempting to put one on the calendar soon. Especially when you work in a construction related job! Gotta see those cranes – and cables and rope and scaffolding in action while the viewing is good!
We hope your summer is bringing great adventures, wherever you may travel. If you happen to encounter any interesting construction along your way, particularly where industrial wire rope is involved, email us. We'd love to hear your story and see pictures.